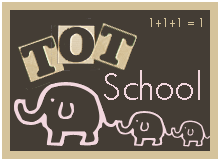 *Shelby is 27 months*
Well we had a slow start back to Totschool this past week. Here is what we accomplished:
I got this puzzle a the Duck, Duck, Goose consignment sale in Knoxville, TN. Let me say I have been to a lot of consignment sales but this was the Granddaddy of them all! I mean it took me 3 hours to check out and that was a the presale that wasn't even open to the general public!!!
I was very excited about this puzzle/game and couldn't wait to show it to Lil Bit, but of course she didn't find it very interesting. She really doesn't like puzzles, I think it is because she is very impatient, something I am trying to work with her on. She gets very frustrated if she can't do something correctly the first time (she is just like her daddy!) He said he didn't really care for puzzles either as a child, which makes me sad because I love them!
After these pictures were taken she was over this activity. The good thing was when I said clean up, she help me put every piece back in the box. Normally she only will put away one or two items and then tell me she is done. As part of tot school we have been working on cleaning up and having to implement some timeouts when she refused to help. And I am happy to say this week we only had one timeout and the rest of the time she was very helpful and had a sweet attitude about cleaning up!
This next activity was a surprise because I really thought she was too young for it and thought it may bore her. Boy was I wrong! She played with this for a long time! I will definitely be bringing this out more!
I picked it up at Ross for less than $5! The possibilities are endless with math and pattern teaching tool. For our purposes this week I just got out the first sheet and only one color.
We had recess this week with daddy at a new park we found. It had a great play set but best of all it had soccer field which were fenced in with really nice artificial turf on them. We practiced hopping and running. I can't wait to bring our ball, hula hoop and other outdoor toys there! Since we don't have a backyard this is a great place where she can run and I feel safe. I just wished I had found it at the beginning of the summer! Here are my favorites and I had a bunch!
I had to share these next pictures of her wearing this hat before we left for the park. She really didn't like it at first and then she was ok with it.
What a mean mom for trying to make me look cute, she says!
"Well I guess it is not such a bad hat"
Mommy says she is jealous of my curls!
Here is another cute outfit from this week. I got this one and the previous one at consignment sales, except for the hat that came from Children's Place.
Be sure to hope on over to
http://1plus1plus1equals1.blogspot.com/2009/10/tot-school.html
to see what Carissa and everyone else did this past week!