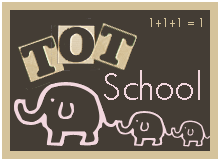 So this summer was hit or miss with official totschool. We traveled so much and had company a couple times so we didn't keep to any sort of schedule. A lot of learning took place in life school however (this applies to both mom and Shelby Lynn). Shelby Lynn is learning about sharing, patience and showing kindness to others and mommy has learned some of the same lessons in her adult relationships, lol! We tried to still implement a letter every tw0 weeks and I was not successful at all, but we did learn the letter "D" and since she already knew "E" we did some review. This week will kickoff our official Totschool and we will continue with the letter "F" and also start our Before Five in a Row curriculum. I also got a new cabinet to organize all of Shelby Lynn's learning toys that I don't keep out all the time and can't wait to share that with you. I also want to try to be better about implementing the system that the Duggars use with their toys, I try to rotate the toys out but after her birthday this year it has gotten out of control, Ha! Here are few pics of what we "officially" accomplished and hopefully this week I will finish our Lancaster vacation posts and other fun activities we did this summer!
Here she is coloring her "d" coloring sheet from her sesame street and working on a number puzzle. She kept going back and forth between the two!
This was Shelby Lynn's favorite "D" activity, growing sponge Dinosaurs, she played with this for almost a hour, and I was shocked and please to get the kitchen clean while she did this! It was a great activity that we started together and talked about colors and she counted the dinosaur and sorted them and then I was able to let her play on her own. She loved squeezing the water out of them!
Here is is working with her magnetic "d"s and trying to draw with chalk. She also got the Leap frog magnet toy for her b-day that not only sings the alphabet but also when you put in a letter is says the name and sound. She loves it!
Here is a few pictures from this summer that I want to share but probably would not do a separate post:
Love this summer outfit.
Just a swingin'
The girl loves her pink boots and her music!
A sweet baby bunny we found outside our gate, apparently our neighbor had a nest in his backyard! We don't see this too often since we live in a townhouse!
please be sure to check out all the other fun times that were had at http://1plus1plus1equals1.blogspot.com/search/label/Tot%20School