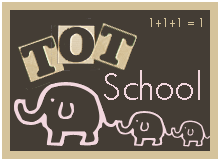 (Shelby Lynn - 22 Months)
So this week for totschool I decided to try learning by the alphabet. I took notes from
HERE
. I love this mom's alphabet approach and she has done a lot of hard work and has resource links. Thanks so much! I also used the Totally Tots website for info as well. I have a button on the side of my blog you can click on to see that site! I thought I was just going to spend one week on each letter, but there is so much we can do that I think I will spend two weeks. Also I think this gives her time to really absorb what we are learning!
Well I am really excited because now I have an official school area. We moved the tv out of the kitchen and that whole corner is now for school. I have a rocking chair for "circle time" with a felt board and magnetic chalk board on the wall. I also bought a rolling cart so that I can put that weeks activities on it. On the bottom shelf I place toys that emphasized "A" learning. The baskets have puzzles, books, and flashcard games and the top shelf has the activities Shelby Lynn does with mommy. I love this!
Our Learning Cart:
Circle Time Area:
Some books from the library and activites to go with them:
Every morning while we ate breakfast I had American Folk music playing ( I felt like the Darlings from Andy Griffith had invaded our house) and we read a book. After breakfast we did one activity together. The first activity we did was a sensory tub. I filled the container with rice and hid amphibians (frogs I got from the dollar section at Target) in it and provide some scoops and another plate. Shelby Lynn really liked this activity. We she finally found an amphibian for "A" (big word I know) she played with it for a long time! I had to keep telling her that there were more in the container.
I was really excited when she got the Little People animal set out and started playing with it. She has had this since last year and never really shown any interest in it. I think by placing it in a new place away from her toys worked! She played with this over and over all week.
Another activities we did was to work with rubber stamps. I place whole bunch of "A" stamps and stamps that started with "A" in a box and let her use the ink pad to stamp on small papers that I am going together as a book for her. She liked this activity until mommy tried to stamp her finger into the ink for the "Ants on my A" project from the totally tots website. She got really upset about having ink on her fingers and we had to stop the activity, because I want totschool to be a fun experience for her.
Stamping:
She kept saying, "oooohhh, paypee(paper)" and hugging it! She does have stuffed animals to love on in case you were wondering!
Not happy with mommy!
Another activity we did was a new abc foam puzzle that I got from Michaels for a $1. We work also on sorting the different colored letters. She did really well with that and by the end of the week she could work the puzzle. Mommy was so proud that Shelby Lynn kept getting it out by herself to play with it!
Other "A" activites we did this we was to count our apples on our felt board tree, sing animal songs, look at abc flash cards (from the $1 section at Michaels) and play a match game that I made with my cricut machine. I was really surprised that she was able to do this. This week we hope to build an ant farm, write a letter to our Auntie Anne, use our scent shakers filled with allspice and work on our Noah's ark totbook from 1+1+1 website.
Here is my favorite pic of the week. This was her expression after she spill a bunch of the rice ( I think I will use pasta next time!)
As always be sure to check out what others are doing in totschool here:
http://1plus1plus1equals1.blogspot.com/2009/05/tot-school-finally-back.html