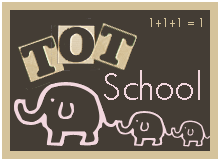 **Shelby Lynn is 26mths
So we are still trying to do one letter for two weeks. We were supposed to go out of town this past Friday, so I didn't have too much planned. Unfortunately my niece who we were going to visit got sick so we reschedule the trip for Oct. I have not been to my sister's house in over 10 years so I was bummed to have to postpone.
Anyway here is what we did do:
One morning daddy didn't have to go into work until late so here they are working a farm animal puzzle that I got from the Target $1 spot (don't you just love that section!)
We also had some lessons in home ec. Here is Shelby Lynn "Folding" towels (it was more like unfolding, Ha!) My favorite thing though is she started singing the clean up song all by herself, I wish the video camera had been handy.
Whew! This is hard work!
We also listened to her silly, giggle songs especially the one on "F"ollowing Directions (maybe this one will stick like the clean up song). She enjoyed shaking her tomtom that we got on our vacation to Pigeon Forge, TN.
Here is a pic of her letter flip flash cards I also purchased at Target. I love these, on the back it has questions for me to ask her about the letter and picture. She really enjoys this activity.
We also learned the song "Father Abraham" and learned motions to go with it, she really liked the turn around part. My sister gave me several of the "Wee Songs" song book and I love them!
Here she is trying to play. She loves the piano and I am hoping that she will want to really learn how to play and practice! I always wanted to play but I hated to practice, so needless to say I am not that great.
I also started reading her toddler Bible to her and we talked about God creating the earth. I was really surprised at how much she enjoyed the pictures in the book, since they are pretty simple. She listen to whole part I chose to read and I was really excited because sometimes story time is pretty hit or miss.
We also reviewed letters A-E and she remembered them all, so even though my totschool is hit or miss at times she still is learning and that makes me happy!
I bought some really neat window clings at the dollar store and put them on the window above her little table and she talked about them alot as well. I wish I had more pictures to share, because I love seeing lots of pics on other blogs.
Next week we are heading to TN to visit Grammy and Granddaddy. Please say a prayer for Shelby Lynn's grammy as she is having major back surgery. We will be taking a break until we get back. Once we are back in town I hope to get into full swing with Totschool and have lots of pictures and links to activities we do!
Please be sure to go see what everyone else is learning in Totschool by going here:
http://1plus1plus1equals1.blogspot.com/2009/09/tot-school-at-beach.html
FAVORITE PIC:
This is just so sweet! I love that they are both in their pjs!