I am so excited to start back with totschool. This was our first full week back in a long time and we had a blast. This year I am using 3 different programs to give SL a wide variety of teaching styles in addition to incorporating Bible lessons. I am using Hubbard's cupboard's 3's curriculum and Confession of a Homeschooler's Letter of the Week curriculum as my primary curriculum but I will also be incorporating lessons and crafts from 1+1+1=1 as well as other sites that I will link to from time to time. Also at the top of my blog each week I will have a link to some of the tools and books we used in our lessons for that week that you can click on for more information about that product. Now on to the good stuff!!
We started each totschool session with "circle" time ( it just the two of us so we really don't make a circle, HA!). We first did calendar time (Carissa at 1+1+1=1 has a great post on this and we incorporated her ideas), we talked about the weather for the day, sang songs and read our Bible lesson for the day.
Here is the two books I am using for Bible time:
The one for Toddlers is more colorful, but the Bedtime Bible story book is closer to the actual scripture so I read both. Here is the pictures from the toddler one:
After circle time we the spent time working on our "written" work and craft projects. This week we did activities involving the letter Aa and learned about Creation. Here is our little school room (aka my former dining room):
I have now incorporated a bulletin board above her table where I display this week's Bible verse and one project that we have done.
SL loves dinosaurs and I found this coloring sheet from First SchooL which she working on while have ABC fruit snacks.
For her birthday my mom bought her a cute traceable Mickey Mouse book and to be able to use again I put it in a page protector and gave her an erasable marker to use. She really liked this activity.
We worked on patterns. I didn't think she was really getting this until the next day she pointed out a pattern to me!
Working on Lower case a:
Do a Dot worksheet. This was the first time she successfully put the markers in the dots!
Using scissors for the first time! By the end she was able to make little cuts on the page, now we just need to work on making continuous cuts.
Coloring Earth and learned He's Got the Whole World in His Hands. She let me trace her hands for the first time, normally she doesn't like that but she thought it was funny this time!
Playing Adam's Animals Bingo. I would call out the animal written on the card and she would place it on the picture. This was a lot of fun!
Working an apple puzzle:
Here are our projects from the first part of our Creation lessons. We will finish this next week.
After we would do our craft I would then bring out a toy that went along with our lessons. Here are some things we did this week:
Shape Sorting and Sizing
ABC Nesting Boxes
Animals of the Air flash cards. I picked these up from Target's dollar section and thought I would keep them for later thinking they were to advanced for her, but she loved them!
On Friday she requested to paint, so I picked an apple tree page to do and she spent alot of time painting the entire page. (and as you can see, Mommy played too)
We also spent a lot of time reading this week. Sometimes with mommy, some with daddy and some all by herself!
We had a great first week and this was just a small part of what we did. It was amazing how great she was and I found that she was actually better behaved with the structure! If you are wanting to start totschool with your little one I highly recommend 1+1+1=1 to get started and confessions of a homeschooler for a curriculum, she has already done all the work you just print it out!! I am linking up this week with: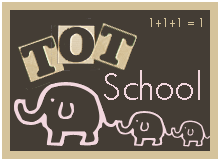 and

You can click on the buttons above to go and check out what everyone else is learning in Totschool and Preschool!